I'm definitely not a morning person, more of a night owl. That said, I decided to wake up early on Friday and Sunday (See prior posts) to get a peek at the comet. The good news is that as the comet speeds its way from the sun, from our vantage point on the Earth, the comet will become viewable in the evenings. Below is a table of estimated altitude above the Northwest horizon (near Raleigh, NC) where the comet can be seen around 9pm. I chose 9pm as that is approximately the end of civil twilight for my area and pretty much the minimum needed darkness to be able to see the comet.
9.4° on Mon Jul 13
11.7° on Tue Jul 14
14.1° on Wed Jul 15
16.5° on Thurs Jul 16
18.9° on Fri Jul 17
21.4° on Sat Jul 18
23.8° on Sun Jul 19
26.2° on Mon Jul 20
28.5° on Tue Jul 21
30.6° on Wed Jul 22
32.6° on Thurs Jul 23
34.4° on Fri Jul 24
36.0° on Sat Jul 25
37.3° on Sun Jul 26
NEOWISE will reach its highest point in the 9pm sky on Sat Aug 1 – 40.6°
The figures above are basically my estimate of the comet's height the in the evening sky when it begins to be become visible. Also realize the comet is setting so your time will be limited each evening.
I took my drone up this evening at 9pm to about 100m to get a sense of the Western horizon, the camera on my drone is horrible in low light. The camera uses a wide field lens so there is a far amount of curvature. I think I caught the star Spica in the picture which at 9pm was about 36° altitude for an approximate reference. Therefore, to catch the comet low in the evening horizon will require some luck and very clear skies with very little haze.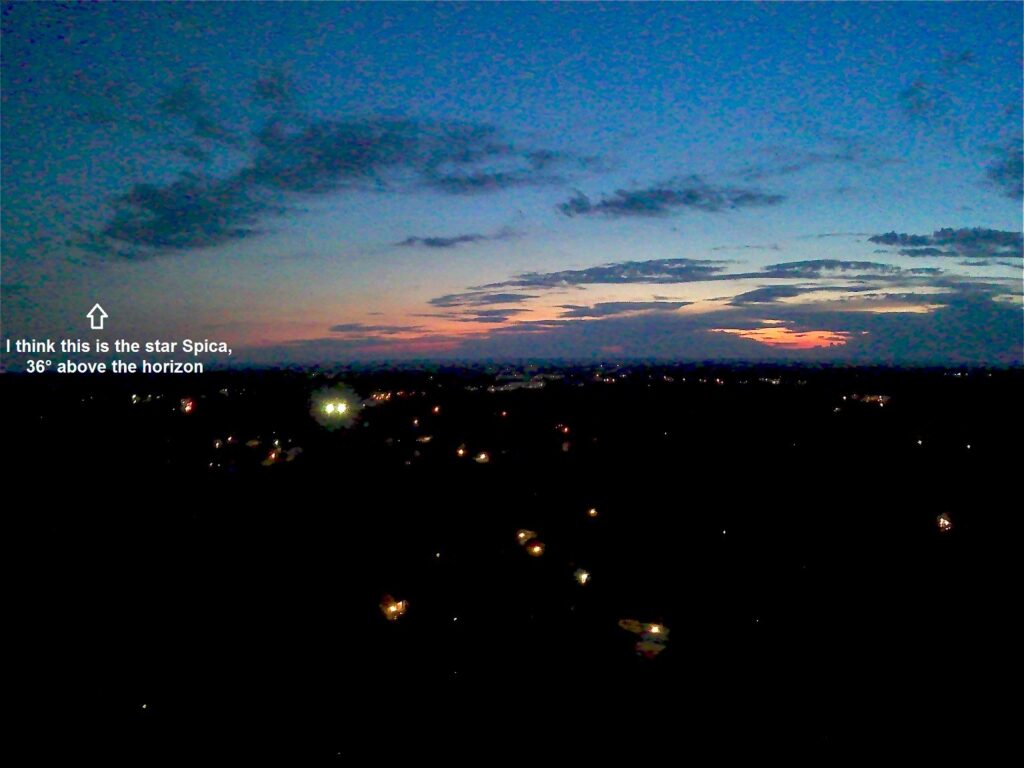 Wishing you clear and steady skies!
-Mike